Key Features / Performance Characteristics
Series 411 Bi-fold door (top hung) has been designed to accept the 50mm thick heavy duty Series 50 and 52 doors.


Can be manufactured with compliant panels up to 3000mm high.


Bi-fold doors are hung on Centor™ twin stainless steel bearing rollers running in heavy duty dual overhead tracks.


The standard E2 rollers will carry door panels up to 40kg.


Heavy duty E3 will carry door panels up to 80kg.


The Surelock™ adjustment on the pivots and carriers allow all panels to be lifted or lowered easily with a flat screwdriver. Doors can be adjusted vertically up to 5mm plus or minus.


Carriers, pivots, hinges and fixings supplied in 304 SS.


Snap-on jamb adapter accommodates an extensive range of jambs to cover almost any situation.


A variety of lever and lock options are available including multi-point locking for added security.


Successfully tested to resist 450Pa water and suitable for air conditioned buildings when weather resisting sill is used.


Can be configured to incorporate single or double entry doors so access can be achieved without opening the whole unit.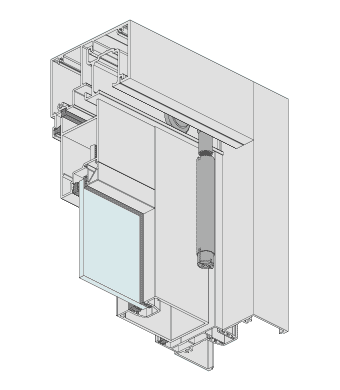 | | |
| --- | --- |
| Maximum Panel Height* | 3000mm |
| Maximum Panel Width* | 1000mm |
| Maximum Glass Thickness | ≤ 24mm |
Series 411 ViewMASTER™ Bi-fold door external view
Features Overview
Top Hung

The 411 utilises both Centor E2 and E3 running gear, the lighter E2 illustrated.


Hardware

A full range of hardware available including multiple 4-point locking mechanisms.


Adjustment

All pivots are vertically and horizontally adjustable.



Compatibility

The 411 incorporates varying profiles to be used as jambs, including corner mullion detailed.


Pivot

Bottom pivot incorporates a unique adjustment system.



Screening

All Elevate™ systems can incorporate Centor roll-away screens.

Compatible Hardware
AWS hardware options designed for use with Series 411
Typical Configurations
Feature Projects
Crowne Jewel
Impressive new construction of the Crowne Plaza Adelaide hotel sees T.C. Aluminium use Elevate™ Aluminium Systems to open up the city views.
Right in the heart of Adelaide's CBD, the Crowne Plaza Adelaide hotel is a landmark presence in the City of Churches.
Construction of the $150-million luxury residential apartment complex consisted of two towers: the 15-level, 308-room Crowne Plaza Hotel, and a 14-level luxury residential apartment tower, known as '20 Hindmarsh Square'.
Related Products
AWS systems designed to share similar aesthetic and performance qualities to Series 411
Alternative Systems
AWS systems which offer a similiar function to Series 411 but differ in aesthetics and performance.