Key Features / Performance Characteristics
Series 424 CentreGLAZE™ shopfront framing measures 102mm x 50mm and has been designed specifically to accept 24mm Insulating Glass Units (IGUs).


The 28mm deep glazing pocket is designed to accept thick heavy IGUs and allows glass to be installed easily with room to spare (catering for glass manufacturing tolerance).


This deep glazing pocket provides a 12mm bite as required by the IGU manufacturers and ensures compliance with glass warranties.


Reinforced tall glazing bead at sill tolerate high wind loads.


True captive glazing wedge allows reglazing from inside - ideal in elevated applications.


The captive wedge also offers increased security.


Glazing wedges are recessed into the framing for a clean aesthetic.


Wide range of sub-sills to cover most installations, including sub-sills with integrated nailing fin ideal for residential installations.


Sub-head and two piece sub-jambs.


Numerous door thresholds including weather resisting thresholds for external and internal swing doors.


Designed for use with Series 50, 51 and 52 commercial doors.


Compatible with Commercial and Architectural Series systems.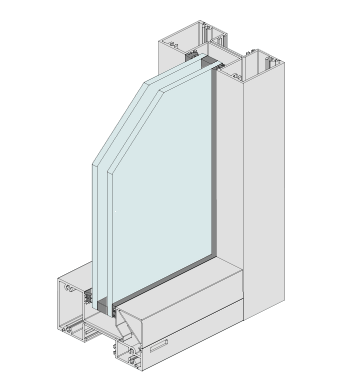 | | |
| --- | --- |
| Maximum Panel Height* | Various |
| Maximum Panel Width* | Various |
| Maximum Glass Thickness | ≤ 24mm |
Series 424 CentreGLAZE™ framing external view
Features Overview
Framing

All 424 framing is designed to accept IGUs up to 25mm.



Strength

Heavy door panel hinges can be reinforced with backing plates.



Sub-Framing

Sub-sill, head and jambs available.




Glazing

We can also double glaze doors and COC highlights.



Mullions

Various mullion details for site windload conditions.



Adapters

Reinforced glazing bead standard on Series 424. Spandrel adapter also available, as detailed.

Feature Projects
A Place To Call Home
All Weather Windows create a lifestyle experience like no other using Elevate™ Aluminium Systems CentreGLAZE™ framing to maximise light and space.
When it comes to development, today's property owners are increasingly focused on technology, architectural excellence, the community and the surrounding urban landscape.
This stunning Brighton development is very much a reflection of the times.
Related Products
AWS systems designed to share similar aesthetic and performance qualities to Series 424
Alternative Systems