Key Features / Performance Characteristics
Frame and glazing pocket designed to be accept 24mm insulating glass units (IGUs) with required 12mm bite plus another 4mm to cater for glass production and installation tolerances.


Compatible with a large range of other Elevate™ framing systems, including sliding doors.


Snap together and interlocking expansion mullions.


Matching 50mm thick hinged, pivot or sliding door designed to accept 24mm thick double glazing and a large variety of industry standard hardware.


Two fully beaded midrail sizes to choose from (125mm and 200mm deep).


Concealed overhead transom also designed to accept 24mm IGUs.


We can insert awning sashes into the framing - if required. These sashes will also accept 24mm IGUs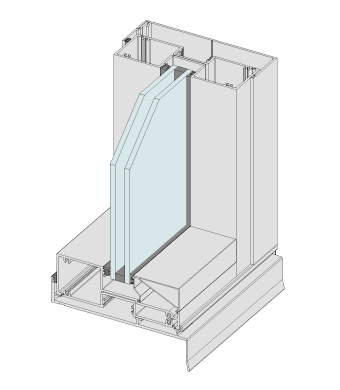 | | |
| --- | --- |
| Maximum Panel Height* | Various |
| Maximum Panel Width* | Various |
| Maximum Glass Thickness | ≤ 24mm |
Series 624 CentreGLAZE™ framing external view
Features Overview
Beading

Sill beads are reinforced for extra strength and security.



Captive Wedges

Can accept both captive and roll-in wedges for the ease of site glazing.



Sub-Sill

Specifically designed sub-sill with central support leg.



Sub-Jamb

Sub-jambs and sub-heads designed for easy installation.



Support

Central leg supports the ever increasing weights of insulated glass units.


Matching Door

We have a matching heavy duty, 50mm thick door designed to accept 24mm IGUs.

Feature Projects
Green School Gets An A+
AWS systems used in one of Australia's first green learning spaces. Taylors Window Supplies deliver innovative window systems for a unique project.
The face of Australian education is changing. Across the country, many students and teachers spend their days in badly designed classrooms, with little access to daylight, and minimal indoor air quality.
But when Gungahlin College, a $72.7 million college in Canberra's north, opened its doors in February 2011, a new benchmark in green schools was set.
Related Products
AWS systems designed to share similar aesthetic and performance qualities to Series 624
Alternative Systems