Key Features / Performance Characteristics
This 80mm offset glazed framing system has been designed to complement the 102mm CentreGLAZE™ shopfront framing system.


Glazing pocket designed to be compatible with industry standard but with the added features of a truly captive glazing wedge option and the ability to screw fix door midrails to framing without having to go through the back of the pocket.


Three 50mm wide door options including fully beaded.


Six awning/casement sash types can be inlaid into this framing system with dedicated inlay adaptors and chain winder base.


ClearVENT™ sashless double-hung can be inlaid into both framing and door panels, refer Series 464 for more details.


Three midrail sizes to choose from (50, 115 and 125mm deep).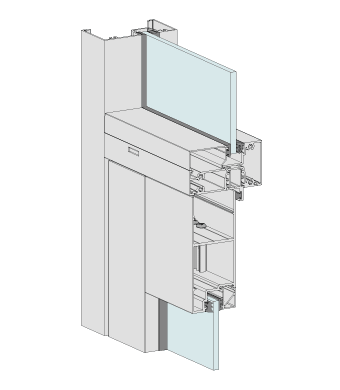 | | |
| --- | --- |
| Maximum Panel Height* | Various |
| Maximum Panel Width* | Various |
| Maximum Glass Thickness | ≤ 10.38mm |
Series 80 Narrow Offset framing external view
Features Overview
Awning Hardware

Awning sash inlay can be operated with cam handles, chain winders and concealed electric motors.


Awning Sashes

Can accept various types of awning sashes.



Glazing Line

Series 80 maintains the same glazing line as 400 series framing, with a variety of jamb options.


Internal Partioning

Series 80 framing is also extremely well suited for high quality internal partitioning.


Sub-frames

We offer sub-head and sub-sill to ensure water resisting installations.



Secure Hinge Fixing

Series 80 utilises hinge backing plates for secure fixing.


Feature Projects
Valhalla Cinema
Glebe's iconic Arthouse Cinema becomes Sydney's newest boutique office. This stunning and sensitive redevelopment showcases the diversity of Elevate™ Aluminium Systems framing.
Once a magnet for Sydney's most discerning cinema-lovers, Glebe's Valhalla Theatre survived from 1938 until its eventual closure in 2005.
In 2006, property developer WProperty purchased the site, with an eye to transforming it into contemporary commercial real estate.
Alternative Systems