Key Features / Performance Characteristics
Series 852 is an innovative thermally broken aluminiun commercial door system designed to complement the Elevate™ Commercial thermally broken CentreGLAZE™ and FrontGLAZE™ framing systems.


Incorporating ThermalHEART™ technology, Series 852 delivers excellent thermal performance and is ideal for commercial and high-end residential applications where minimising heat or cold transfer is desired.


To enable excellent thermal performance to be achieved, a "Thermal Break" is incorporated which separates the inside and outside elements of the frame providing an insulator to minimise the transfer of heat or cold between the elements.


This insulating strip is manufactured from polyamide and delivers the same structural properties as aluminium to ensure the integrity of the system is maintained.


Series 852 Commercial Door system incorporated fully beaded 50mm thick heavy duty door stiles and rails designed to accept 24mm IGUs.


We also offer a range of snap-on glazing beads to allow us to fit thinner glass – down to 4mm thick.


Door stiles have been designed to accept wide backset (34mm and 38mm) locks. The greater the backset the easier it is to access the key.


Double glazed hinged doors will be heavy and for this reason we have designed an adjustable heavy duty hinge.


Captive co-extruded glazing wedge option (illustrated) reduces the chance of vandalism.


Available as hinged, pivot and sliding panels.


Top and bottom rails are secured to stiles with heavy duty spigot fixed to thick backing plate with high tensile bolts.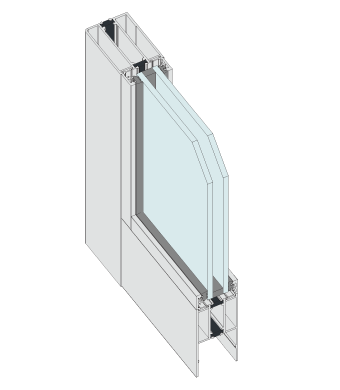 | | |
| --- | --- |
| Maximum Panel Height* | 2800mm |
| Maximum Panel Width* | 1000mm |
| Maximum Glass Thickness | ≤ 24mm |
Features Overview
Wide Door Stiles

Several wide door stiles to choose from including true French meeting stiles.


Accepts 28mm IGUs

A range of glazing beads and wedges allow glass thicknesses from 4mm to 28mm.


Tight Joints

Custom heavy duty aluminium spigot and backing plate for tight joints between stiles and rails.


Heavy Duty Hinges

The doors have been designed to accept an adjustable heavy duty hinge.


Aluminium Backing Plate

The hinge to frame connection is reinforced with extruded aluminium backing plate.


Mortice Locks

The wide stiles allow us to fit extra wide 34mm backset mortice locks.



Nylon Stile Cap

Injection moulded nylon stile end cap keeps water and dust away from the lock motor.


Commercial Lever Lock

38mm wide backset commercial lever lock with 316-grade stainless steel furniture.


Nylon Stile Cap

Injection moulded nylon stile end cap keeps water and dust away from the lock motor.


Lever Compression Lock

40mm wide backset lever compression lock with 316-grade stainless steel ICON™ furniture.


Thermally Broken Head

Custom thermally broken head and transom to accept COC cover and doors.


Centor E3 Rollers

Custom roller supports heavy IGU's. Height can be adjusted via access hole in edge of stile.


Centor E3 Rollers

Can be fitted with Centor E3 heavy duty overhead rollers. Support bracket fixes into door spigot.


Thermal Rating

ThermalHEART™ frames perform significantly better than traditional aluminum frames.

Related Products
AWS systems designed to share similar aesthetic and performance qualities to Series 852
Alternative Commercial Door Systems