This spectacular Warrnambool home sits perched high above the Hopkins River. The simple clean design, expansive use of glazing and innovative selection of products offer an uncomplicated and elegant living space for its owners.

Building designer Donna Monagan of Form & Function Building Designs and Builder Dominic Beasley of DMB Consulting and Construction worked closely with the owners to help them create their ideal home.

A number of clear objectives were set at the onset of the project. These included a requirement for large expanses of glazing to maximise the buildings outlook and connect the interior and exterior living spaces seamlessly. A simple, minimalist design with contemporary styling to reflect the fresh, dynamic attitude of the clients and open plan living to create a spacious feeling throughout the home. Thermal performance and energy efficiency were identified as important factors in ensuring a comfortable living space could be maintained through warm summers and cool winters.

These objectives created a number of challenges. How to balance the requirements for large expanses of glazing with the need to achieve outstanding energy performance? How to connect interior and exterior spaces seamlessly whilst maintaining a simple open plan design?

With these factors in mind the owners approached Portland Aluminium and Glass for expert advice on how glazing options could be used to address the challenges. Doreen from Portland Aluminium & Glass comments "As soon as we sat down and looked over the plans we could see the opportunities to incorporate 90° corner sliders, stacking doors and big double glazed fixed panels to really maximise the river views and open up the living spaces. Unlike many existing window systems on the market the Elevate™ Aluminium Systems range has the flexibility to achieve wide tall sashes which accept double glazed units so you can achieve big openings with great energy performance and this was exactly what the project needed."

Gavin and Doreen recommended replacing two small sliding doors which opened on to a courtyard with a dramatic 90° corner sliding door. This opened up the living space and created a stunning aesthetic addition to the home. The product selected for this application was the Elevate™ Aluminium Systems Series 704 SlideMASTER™. In addition to achieving the 90° corner configuration, this system offers a range of sill options enabling the clients to create a flush sill transition between interior and exterior environments for a truly seamless effect.

The corner slider was used downstairs in conjunction with a number of wide panel stacking doors spanning openings of up to 4.8m. Upstairs a combination of double glazed fixed panels were used along with a selection of residential and commercial awning windows to achieve budget.

The clients were able to view the products in the Portland Aluminium & Glass showroom, so they understood exactly what systems were being recommended for their home. They commented "We were really impressed with the assistance and advice Doreen & Gavin were able to provide. The Elevate™ Aluminium Systems and Vantage window and door systems they showed us were a perfect fit with our project. The bold frame designs matched the contemporary style we were trying to achieve in our home, the capacity to offer large panels with double glazing meant we didn't have to compromise our view for energy performance and the amazing functionality of the products means the living spaces in our home have truly been enhanced by these systems".
To find out more, download the project feature PDF.
Featured System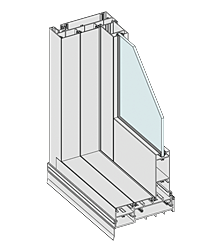 Series 704
SlideMASTER™ Sliding Door (Internal Sliding)